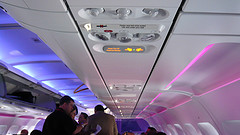 The FAA announced that they are forming a working group to study current policies related to portable electronic devices(PED). The group will review the FAA's policies on devices and the procedures for determining whether they can be used during various phases of the flight.
This doesn't mean you'll be able to use your cell phone in flight. Voice communication will not be part of the working groups mission.
The FAA is seeking public comments for the next 60 days.
So, basically, the questions in a nutshell:
Should electronic device use be restricted during certain parts of the flight(Takeoff/Landing/Safety Briefing) to prevent passenger distraction?
Can a standard of certification be established that can be adopted by the device manufacturers, as opposed to the responsibility being with the air carrier/FAA?
Should new aircraft be built to tolerate specific types of device emissions?
How can aircraft operators, aircraft manufacturers, and device manufacturers share information and data to facilitate authorization of device use, such as already conducted testing on such devices?
Don't start powering up your cell phone yet. After the public comments, the working group will meet to discuss the matter for six months. So, assuming that regulations change, don't expect to see anything substantial for at least a year.
Our prediction…even if the rules are relaxed, the safety aspect will still keep these devices stowed during takeoff and landing…because we might be too distracted by using them…distractions that apparently are less dangerous when using the airline's IFE, reading a book/magazine/newspaper/etc.
Related articles